1. North America is full of surprises.
A lot of surprises. And we're really just talking about Mother Nature. Yes, there were a lot of things that we knew were going to be beautiful and amazing, and we made sure all the cameras were charged and that we were in the exact right place at the right time. A perfect example of this would be the total solar eclipse we hustled down to Idaho for (and man, it did not disappoint). There were drives that we knew would be breathtaking: the drive to Prince Rupert, Going-to-the-Sun Road in Glacier, and the drive through Glenwood Canyon on 70, to name a few.
But there were a lot of surprises for which we couldn't plan. Despite an unpromising aurora forecast, we were treated to two spectacular and completely unexpected displays of the Northern Lights in the Yukon Territory. We didn't even know that the Great Sand Hills or Craters of the Moon existed until the day before we arrived at each one (see below). And there's nothing quite like discovering something amazing as you drive through it. The Canadian Badlands in Alberta. Our bizarre and ethereal drive to Circle, Alaska—not to mention the 8 or 9 rainbows we saw on our way back. And, of course, our drive to and through the Sawtooth Valley in Idaho, which left both of us a little dumbstruck.
We couldn't have planned for all of the wildlife, like the juvenile brown bear lazily snacking on salmon by the Chilkat River, or the pair of sandhill cranes doing a bizarre sort of hop-dance in a field outside Bellevue, Idaho—something we failed to capture on film, but it looked something like this. There were stone sheep and muskox and herds of deer. And there was the late night visitor to our campsite on the Denali Highway, which leads us to our next lesson...
2. Camping is awesome.
Of course we should have known this. We wish we had camped more, actually. Why isn't everyone camping? We also noticed that it seemed like there was no one under 35 camping with us. Strange, right? That being said, the people that we met (no matter their age) were incredibly interesting—funny and insightful and so happy to sit around a campfire and talk to someone new. And when we were camping somewhere remote and it was just us, that was awesome, too.
We learned that some of us are better than others at putting up and taking down a campsite, in record time. We learned that if you're camping on the ferry deck on the Alaska Marine Highway System, bring something to hold down your tent/rainfly during windy, rainy nights (duct tape?). We learned that a little dollar store fan can do wonders for cooling down your tent in the morning, and we learned about electric bear fences (and what it feels like to be shocked by one).
3. WE REALLY LOVED THE 500X.
We're both pretty brand-loyal when it comes to the cars we drive (and neither of us had driven a Fiat before). And yet, from the day we set out in the 500X, we were both smitten. Here's why:
We took the car down some of the roughest dirt roads we've ever seen. We drove over miles of deep frost heaves, along steep cliff-side roads and into deep, brush-filled valleys on gravel roads that maybe weren't roads after all. The 500X just kept on trucking. And the car looked damn good doing it, even plastered with a colony of dead insects and coated in an inch of sand and dirt.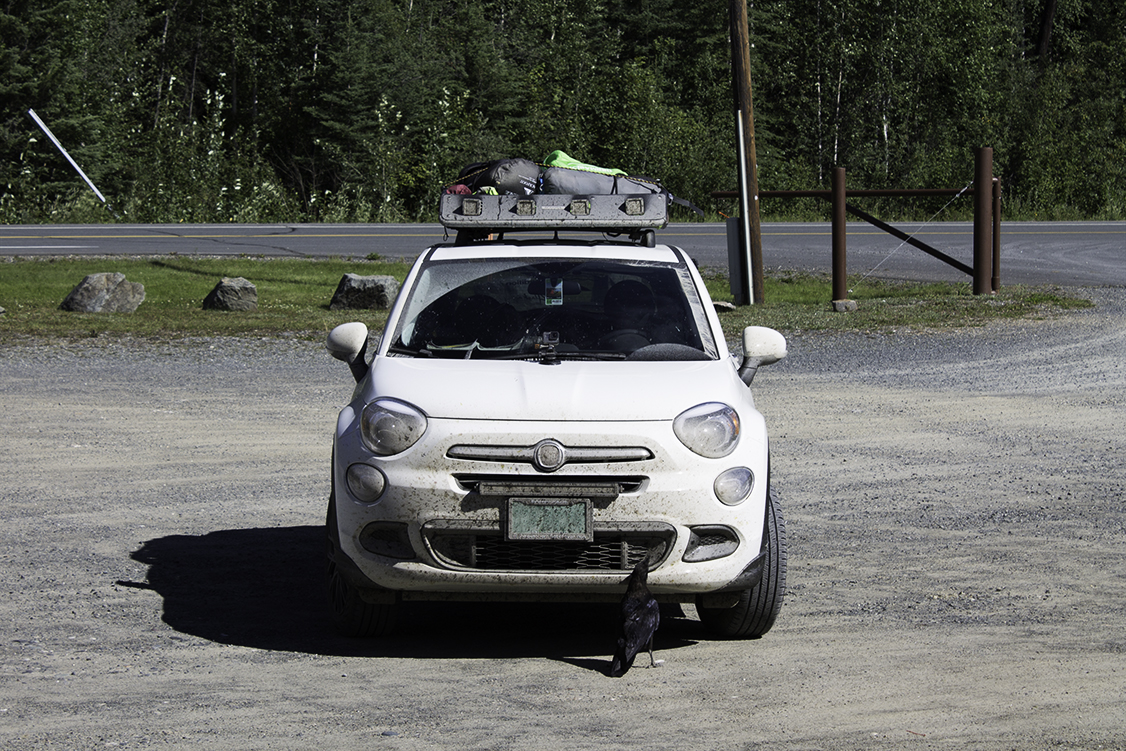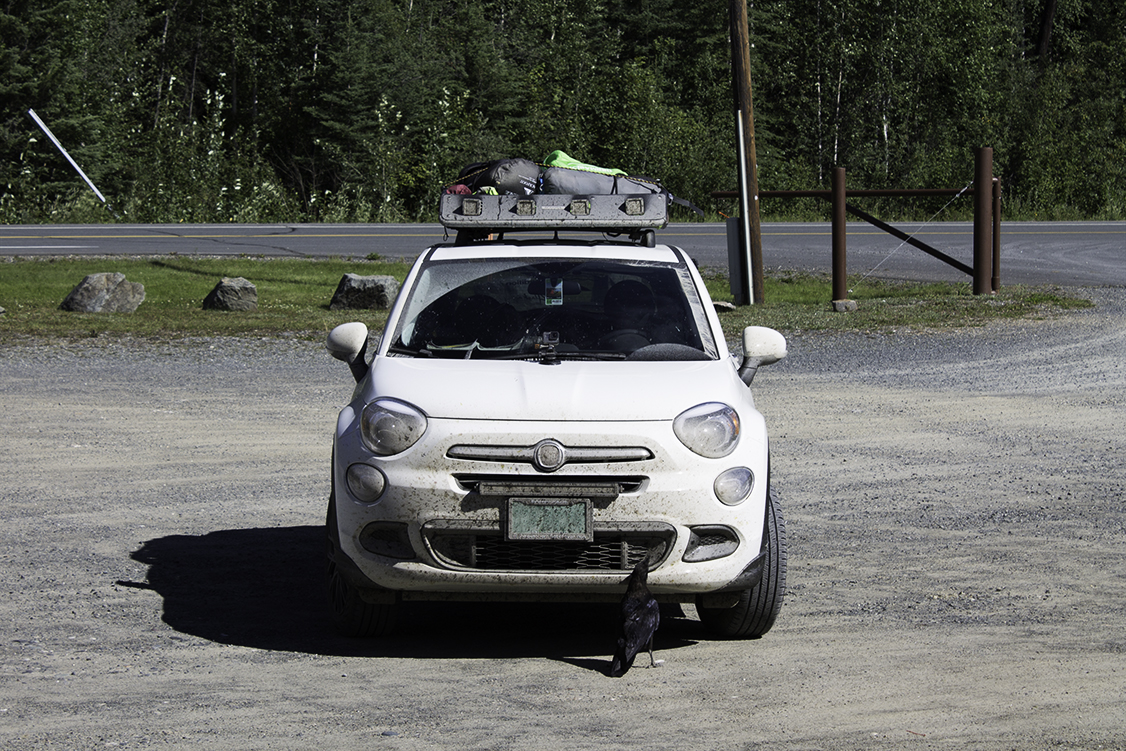 The amount that we were able to fit in the car was downright impressive. All of our camping gear, two coolers, enough clothes to get us through at least a few weeks, plus hiking gear and guide books and souvenirs and a small air mattress and two pillows and a solid amount of snacks and both of us. We even slept in the car one night, which required a lot of moving around of all that stuff... but it worked!
The car had everything we never knew we always needed. The satellite radio got us through hours of driving with no local radio, no visual stimuli, and no cell service. All of the interior compartments and cubbies kept us organized, holding onto our GoPros and road maps and sunglasses and chargers and everything else we could possibly need. And we were comfortable for hours on end, which is no small feat.
"You drove all the way from Chicago in that?" We heard that over and over as we pulled in somewhere and met the locals, our fellow campers, or our hosts for the evening. That tone of surprise and respect was music to our ears. We really enjoyed how much the 500X defied expectations, parked alongside giant trucks and RVs the size of small mountains.
4. There are a lot of lakes, WATERFALLS, rivers, bays, creeks...
And the list goes on. It sounds silly, but it did teach us something: there's no peace quite like the kind you find looking out on a body of water. We took in the sparkling waters of Maligne Lake from a canoe. We sat on a rocky beach on the Homer Spit. We stood waist-high in the tranquility that is Half Moon Lake. And then there was sheer perfection of the Inside Passage—the cold, glassy waters rippling in the ferry's wake.
5. There's a lot we didn't know.
Which is probably evident from this list. For example, we learned there are four different kinds of Alaskan salmon: king, coho, sockeye, and pink. We learned about lava tubes, the Northern Lights, the wonder that is qiviut, and the different kinds of glaciers (there are way more than you think there are). We realized that we didn't really understand bonsai before our trip to Denver. We found out the hard way that driving through the Yukon Territory late at night without a reservation means you will be sleeping in your car. Also, driving through popular national parks at the height of the season will make you want to leave. We learned (again) how important it is to have a trail map when you're hiking. Also, if you're taking the Alaskan ferry, don't forget your sunscreen on the car deck.
And we learned that there is a lot more to see.